Mini Amaranth Pesto and Tomato Galettes
Updated: May 19, 2021
A little while before I began blogging and following some brilliant food bloggers, I was introduced to the galette. The only galette I was familiar with was the French buckwheat savory crepe (Galette Bretonne) folded up in a square shape revealing whatever filling was inside.
Galette Bretonne
But the galette I'm talking about here is a French free form pie or a tart that's usually filled with fresh fruit. I was introduced to the galette when I saw Dorie Greenspan's recipe for Paris' Circus Bakery style apple pie on NYT Cooking. It did not look like pies that I was used to seeing; it looked so inviting and rustic, it was a feast to the eyes.
I love a galette because it is so down to earth and rustic. There are no strict rules that you need to abide by while shaping it, that's why we call it a free form tart.
The galettes this recipe makes are savory. They are incredibly easy to make, and it's a no-fuss recipe. The galettes are filled with pesto and tomatoes, they're herby, they're fresh and light, and they're super healthy. Moreover, these galettes are perfectly portioned out for each person.
I've done an amaranth pesto and tomato galette. Wondering what amaranth is? You might know it as Chaulai in Hindi, but I grew up knowing it as Thotakura in Telugu. It's a beautiful leafy vegetable that I think is native to India, and growing up, we used to have it for lunch quite often.
I've only ever seen Indian dishes like dal and curries being made with amaranth, and since basil isn't available where I am, I was looking for a leafy vegetable to make pesto with. Amaranth is always available here, or so I think. But the resulting pesto was so delicious! And what better to pair with pesto than some fresh tomatoes?
What goes into this galette?
Let's start with the pastry or the dough that gives the galette it's the main structure. Galettes typically have a base made of puff pastry or a sweet pastry crust. For this recipe, I've used a dough that is kind of like puff pastry.
It calls for cold butter, cold water, and flour. I also add a touch of vinegar to tenderize the dough. It is crucial that your butter and subsequently, the dough, remain cold because that's what's going to give you maximum flakiness. I'm going to be candid; I tried my best to keep everything cold, but I work in the daytime, and my set-up doesn't have any air conditioning, and it's super hot here, so my dough wasn't super flaky. But yours can be if you try hard enough.
For even distribution of the cold butter, I measure how much I need, and then I wrap it and freeze it until I need it. Then, I hold the butter in parchment paper, or it's packaging wrap and grate it into the flour. I tend to leave out the last little bit of the butter because there's no way you can grate it without touching it with your hands. And when you touch the butter directly, it's going to start becoming warm, and we don't want that.
Let's talk about the filling now. I love experimenting with different leafy vegetables to make pesto. Funnily, I've never made classic basil pesto because I never get basil here. I've used spinach before, and this time I used amaranth leaves.
Amaranth (or Chaulai/Thotakura) is jam-packed with nutrients and is extremely rich in iron and fiber. Simply put, this vegetable is good for your body's insides and outside.
To make the pesto, I add blanched amaranth leaves with the stems (most of them) cut off and some walnuts for a little texture. I also add some salt and red chili powder for flavor. You can also add some garlic and lemon juice for more punch.
Coming back to the dough, since the pesto and tomatoes both have a lot of moisture in them, it's vital to ensure that the bottom of the galette doesn't become soggy. I picked up the following trick from Bon Appétit's website, and they say that dusting the bottom of the crust with breadcrumbs or semolina will prevent it from becoming soggy. And it works! I dust mine with breadcrumbs, and my galettes are perfect.
The shaping, as I said, is free form. You just need to fold up the edges, creating sort of a folded barrier with the filling on display. It's effortless, you just need to start folding up from one point until you go full circle.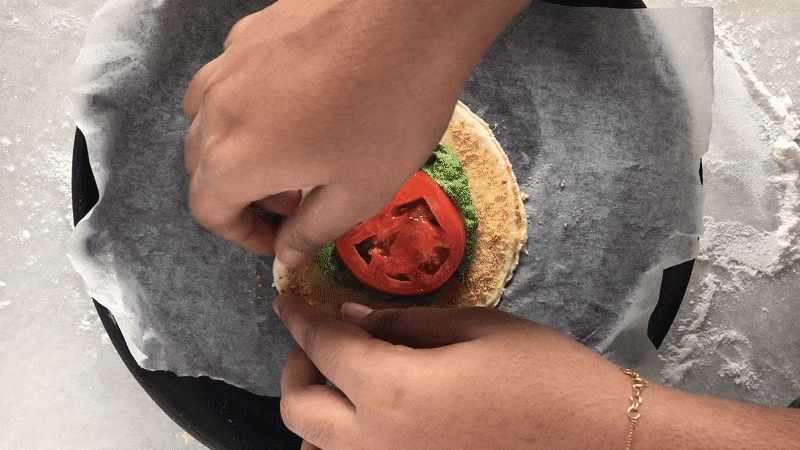 This recipe is for 3-4 mini galettes, but you can feel free to make a big one, it doesn't make a difference, do what you want to do!
Equipment
These galettes are simple and laid back, and so is the equipment you need. You don't need any special tools to make these galettes.
I use a box grater to grate the butter, but you can use whatever you have in your kitchen.
And to cut out the galette circles, I use a bowl as an outline, and I use a knife to cut around it.
Now, here's every kitchen tool you need to make these galettes:
Mixing bowl

Fork

Box grater

Spatula

Mixer grinder or food processor

Knife

Rolling pin

Parchment paper

Baking tray
The Recipe for

Mini Amaranth Pesto and Tomato Galettes
Time: 1 ½ hour
Yields: 3-4 mini galettes
INGREDIENTS
Pastry:
100 grams (½ cup) frozen butter

160 grams (1 ¼ cup) all-purpose flour

60-70 grams (4-5 tablespoons) cold water

½ teaspoon salt

1 teaspoon vinegar

3 tablespoons breadcrumbs or semolina
Filling*:
115 grams (½ cup) amaranth leaves, blanched and with the stems cut off

40 grams (⅓ cup) walnuts

Salt to taste

2 tablespoons olive oil

2 teaspoons lemon juice

2-3 garlic cloves, chopped

½ teaspoon red chilli powder

1 medium sized tomato
METHOD
Pastry:
Whisk together the flour and salt in a mixing bowl.

Hold the frozen butter in its wrapper and grate it into the flour. If you feel that the butter is becoming too sticky, dip it in your bowl of flour and continue grating.

Don't use all of the butter, leave the last ¼ bit as it will be challenging to grate it down.

Use a fork to mix the butter and flour to create a shaggy mixture.

Mix in the cold water and vinegar, and trail about ¾ of it into the flour-butter mixture.

Mix with a spatula until everything comes together. Do not knead and try not to get your hands involved if you're working in a warm climate.

Form the dough into a rectangle and fold it over itself.*

Wrap the dough in plastic wrap. Place it in the freezer for 15 minutes.
Filling:
To a mixer grinder or food processor, add the blanched amaranth leaves, walnuts, red chili powder, olive oil, lemon juice, garlic, and salt according to your taste. Blend until smooth.*

Add a teaspoon or two of water into the mixer if the pesto seems coarse or dry.

Cut the tomato into thin slices and toss it in some salt and olive oil.
Shaping and Assembling:
Get the dough out of the freezer and place it on a well-floured work surface.

Dust the top of the dough with more flour and roll it into a ¼ inch thick rectangle.

Cut out 5-inch circles and dust them with either breadcrumbs or semolina.

Bring the dough scraps together and cut out more 5-inch circles.

Pierce the circles with a fork and dust them with breadcrumbs.

Dollop about 3 tablespoons of the pesto in the middle of each circle. Spread it around gently with your fingers, leaving a gap of about 1 ½ inch from the edge.

Then, place the tomato slices on top.

Fold the edge of the pastry up, creating a barricade around the fillings.
Baking:
Preheat the oven to 230°C.

Grease a baking tray with some olive oil and line it with parchment paper.

Transfer the galettes to the prepared baking tray and brush the sides with some milk.

Bake the galettes at 230°C for 20-25 minutes.

Top the hot galettes with cheese of your choice, and they're best eaten warm.
Notes
If you have leftover dough, wrap it securely in plastic wrap and freeze it until you want to use it again. And if you have leftover pesto, store it in an airtight container and refrigerate. It should last up to a week or more.
*I have updated a few things in the recipe. I have added a folding technique which will guarantee in a flaky pastry. I've also added lemon juice to the pesto recipe.
If you guys liked this recipe or tried it out yourselves, let me know in the comments below or on Instagram or Facebook.
#galette #pestoandtomato #breadsandsavory #pastry #pastries #breakfast